Light Wheat Bread (Bread Machine)
Pam-I-Am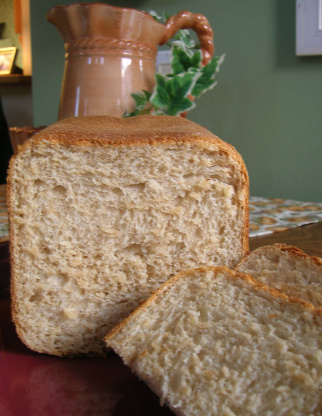 This has become my favorite standard loaf. I found this recipe on the Fleischmann's yeast website.

Love this! I used 2 tsp. yeast and 2 tbs. butter and put it in my bread machine on dough cycle. I kneaded it slightly to remove air bubbles then let it rise for 30 to 45 minutes in a warm area then baked in the oven. (Which is how I do most of my breads) at 350 degrees for 45 minutes to 1 hour. I have made it several times!! My family eats it up quickly!
Place ingredients in the order given in bread machine bucket.
Process on basic/white cycle, medium color crust setting.
I use warm (tepid) water and the rapid (3 hr) setting.
You can use 1 1/2 teaspoons yeast, but I've found that 2 teaspoons produces a fluffier loaf.