Light Tuna Salad, Chicago Hotdog Style (Sort Of)
loof751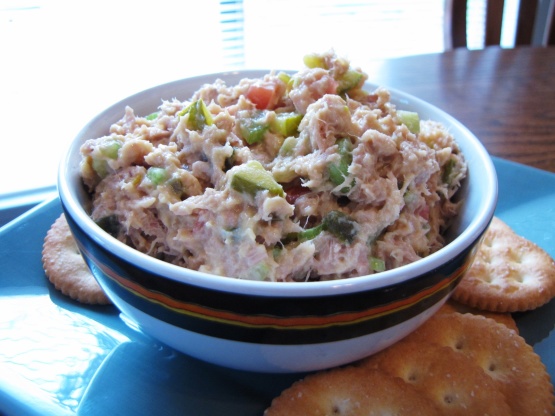 Ok, this is pretty much the same ingredient that go on a Chicago hotdog, except the meat is Tuna LOL!

This is a very tasty tuna salad! I don't care for onions so left them out; I did use the optional celery to get that nice crunch (plus I just like celery!). I couldn't get the Branston relish so I used some chopped candied jalapeno instead. I thought this combination of ingredients might be good but I was pleasantly surprised at how much I liked it. Served with crackers and really enjoyed - thanks for sharing the recipe!
1⁄4 cup tomatoes (diced)
1⁄4 cup chopped dill pickle

2

tablespoons chopped onions (you can add more if you like)

1

teaspoon branston pickle (which isn't from Chicago- it's British, BUT SO GOOD! Use the Branston or Ploughman instead of "Relis)
celery salt (optional)

1

celery rib, chopped (optional -this is for extra crunch)

1

tablespoon mayonnaise

1

tablespoon mustard

2

(5 ounce) cans light chunk tuna in water (NEVER use "Albacore" tuna because it's LOADED with mercury)
Easy: Toss everything into a bowl and mix.
It taste even better if you chill in the fridge for an hour or two before using.
This is great for a quick snack, to put on top of a salad, or as a meal. You can even use 1 cup of this to make a Tuna Casserole! Yeah, you can! And it's fun!