Light & Tasty Chicken Piccata
Cindy D.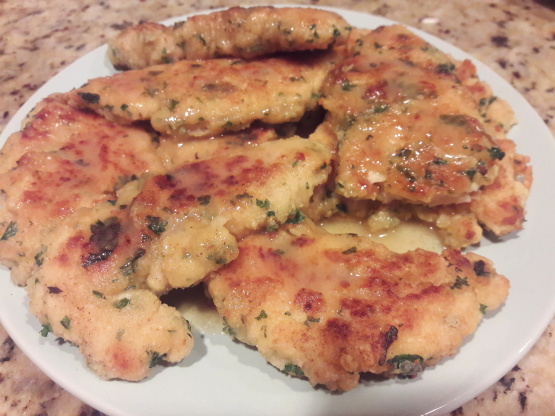 This recipe was taken from the Light & Tasty magazine and was a huge hit with the entire family. It is fabulous!
Flatten chicken to 1/4 inch thickness. In a shallow dish, combine the egg substitute, 2 tablespoons broth, 2 tablespoons lemon juice, garlic and hot pepper sauce.
In another shallow dish, combine the flour, parmesan cheese, parsley and salt.
Coat chicken with flour mixture; dip in egg substitute mixture, then coat again with flour mixture.
In a large nonstick skillet, brown half of the chicken breasts in 1 1/2 teaspoons oil for 3-5 minutes on each side or until juices run clear. Remove chicken and keep warm. Drain drippings. Repeat with remaining chicken and oil. Remove chicken and keep warm.
In the same pan, melt butter. Add the remaining broth and lemon juice. Bring to a boil. Boil, uncovered, until reduced by a fourth. Drizzle over chicken.