Light & Tasty Artichoke Crostini

This appetizer is wonderful when vine-ripened tomatoes are in season. You can also spoon the mixture over grilled chicken or fish for a nice change.
Directions
Cut the baguette into 32 slices.
Place on an ungreased baking sheet; spritz bread with nonstick cooking spray.
Bake at 325 degrees for 7-10 minutes or until crisp.
Cool on a wire rack.
In a bowl, combine the tomatoes, artichokes, basil, oil, seasoned salt and pepper.
Spoon onto bread slices.
Most Helpful
Mmmm, I love brushetta, especially with artichokes. I couldn't resist rubbing a garlic clove on the bread before toasting, and added just about a tablespoon of balsamic vinegar. Parmesan would have been good too. Thank you!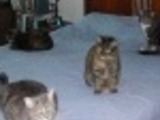 Loved the addition of the artichoke hearts to a traditional bruschetta recipe. Great party food.

Fantastic wine appetizer. It has a flair, but compliments food and appeals to an array of tastes. I added proscuitto to a a few of them to mix it up - and it was a great touch. I also topped it with freshly grated parmesean, which was a great addition. Thanks for a great addition to my next wine tasting event!