Light Summer Salad (Bulgarian Shopska Salata)
Shawn C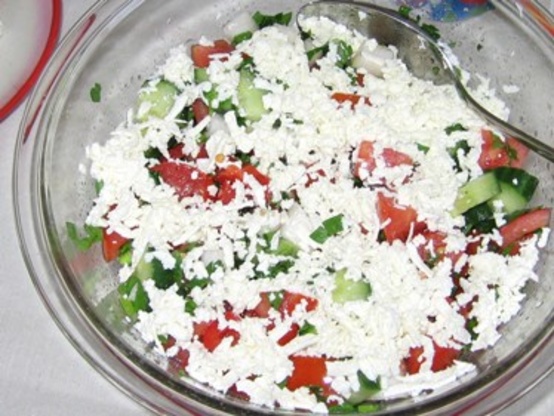 Found this recipe and it makes for a great last minute what is in the fridge salad to go along with all grilled meats! It is great for a cookout or picnic. It can be a small salad or a large one. dress it up with what vefies you like to make it your own. Use crumbled goat cheese or the traditional bulgarian sirene cheese.

Find a nice soft goat cheese if you can't find Bulgarian white cheese, don't use feta. OK, maybe if you like feta it's a good substitute, but I can't stand feta and I loved this salad when I had it in Bulgaria.
Place tomatoes, cucumber, peppers, onion and parsley in a large bowl.
Place oil, vinegar, salt and pepper to taste in a screw-top jar. Cover and shake until well blended.
Toss dressing with vegetables, turn into a serving bowl and refrigerate until ready to serve.
Top with crumbled cheese.