Light Summer Potato Salad - Leichter Kartoffelsalat
Annacia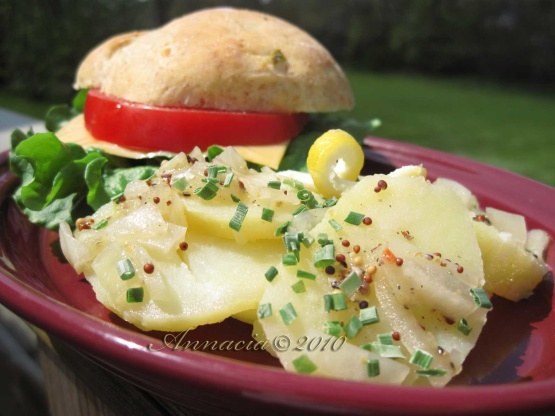 Years ago, my German step-Grandmother gave me a book of German cooking. This is from that book, which was published in 1969. "Light" in this case has managed to hold up for 40 odd years. I changed the original recipe to include veggie stock instead of chicken, and added some fresh chives to the finished salad for a little extra colour. Update: After making it for the first time, I found there was far too much salt put in at a time when there is no going back...so I adjusted that down. Also adjusted down the amount of olive oil (orig called for 1/3 cup), and added some additional directions regarding the potatoes.

Yum yum. My only change would be to either reduce the salt added to the dressing or even omit it completely and let everyone add what they wish. the other thing was that it doesn't state just where the oil goes, I assume that it has to be in the dressing but it seemed strange to cook it with the stock. I decided to add it after the simmering time but then totally forgot to do so. I'll be making this again but next time leave the onion amount the same but double the rest of the dressing ingredients and still skip the oil as I didn't miss it in the flavor department and this way it's *really* light, :D. I used a whole seed German mustard.
Prepare the potatoes by scrubbing them clean, but not peeling. Bring a large pot of lightly salted water to boil, drop the potatoes in - there should be enough water to cover them. Boil them briskly until they show only the slightest resistance when pierced with the tip of a sharp knife. (about 20 minutes). You don't want to overcook them or you won't be able to slice them. TEST - take out your largest potato and cut it in half lengthwise, check for doneness.
Drain the potatoes -- let them cool enough to handle them, then peel (use fingers or gently use knife, cut out brown bits as you go). Cut each in half lengthwise and then into 1/4 inch slices. Set the slices aside in a bowl and cover tightly. There will be a small amount of carry-over cooking here.
In a heavy pot combine the diced onion, veggie stock, vinegar, mustard, salt and pepper. Bring to a boil, stirring occassionally. Reduce the heat to low and simmer uncovered for 5 minutes. Remove from the heat and stir in the olive oil and lemon juice.
Pour the sauce over the potato slices. Coat evenly by turning with a spatula. Let the potatoes cool to room temperature, mix in the fresh chives, adjust salt & pepper and serve.