Light Salami and Feta Mini Pizzas With Tossed Greens
Dole9027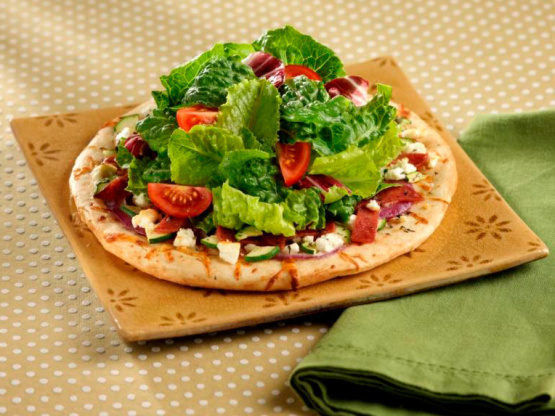 This dish incorporates the robust flavors of Italy. Buon appetito!
Lightly brush Boboli crusts with 1 teaspoon olive oil. Layer with onion and zucchini; sprinkle with Feta cheese and oregano. Arrange 5 slices salami on top of each pizza, and bake in a preheated 450 degree F oven, until pizzas are cooked through, and slightly crisp on the bottom, 10-12 minutes.
Meanwhile, whisk garlic, vinegar, and extra-virgin olive oil in a small bowl. Season with salt and pepper.
Combine salad greens with tomatoes (if using) in a medium bowl. Add vinaigrette, and toss to coat.
Cut each pizza into quarters; arrange on 2 plates as a whole round. Top each with half of the tossed greens and serve.