Derf2440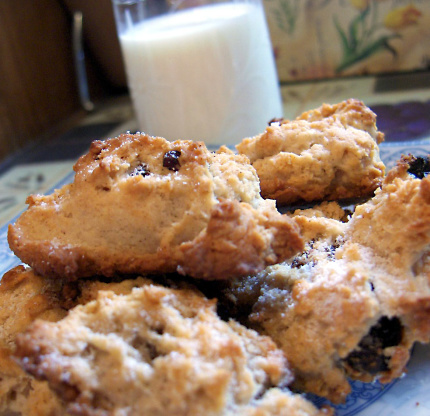 The best way to describe rock cakes are as an ugly, cake-like, drop cookie. They have a lovely light texture with a crisp outer. I have altered the traditional recipe to include cranberries. These serves are pretty large. Australian measurements used.
Preheat oven to 200 deg C (fan forced oven).
Sift flour into large bowl then add remaining dry ingredients.
In a microwave safe jug melt margarine. Add milk and combine using a whisk. Add egg whites to this mix and thoroughly whisk.
Add milk mixture to dry ingredients and mix well.
Divide mixture into 12 and drop onto a baking tray coated with cooking spray (or line with baking paper). Sprinkle extra sugar over the top of each cake.
Bake for 20 minutes or until pale golden.