Light Refried Black Beans
Bergy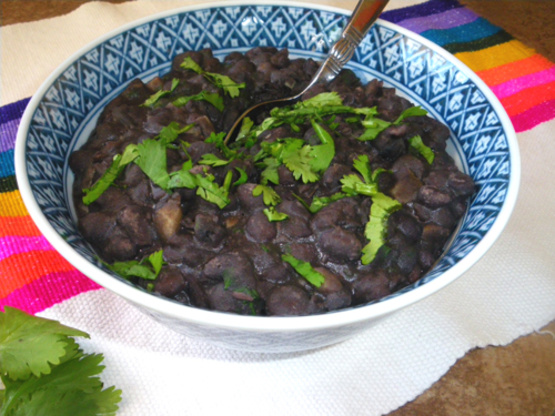 Refried beans are typically made from pinto beans, but black beans work well, too. Add a dab of sour cream if you crave a little richness. Recipe courtesy of Gourmet Magazine.

I have just recently 'come around' to the world of beans, and seem to have a particular affinity for the darker sorts. This, then, is my first foray into the world of refried beans. These very nicely picked up the notes of garlic... I admit I also added a pinch of chile peppers to this. Very good, simple flavour, and nicely enhanced by the fresh cilantro. I actually ate this on a small tortilla shell with lettuce, onions & tomatoes as a very tasty light dinner. Thanks Bev I know I will be making this one again!
Cook garlic in oil in a skillet over moderate heat, stirring, until fragrant, about 1 minute.
Add beans with their liquid and mash with a potato masher or the back of a large spoon to make a coarse purée.
Continue to cook, stirring occasionally, until mixture is hot.
Stir in enough of water to thin to a creamy consistency.
Add pepper to taste.
Serve warm, sprinkled with cilantro.
(Beans can be made 1 day ahead and chilled, covered. Reheat, adding water if necessary.) Makes 4 servings.