KateL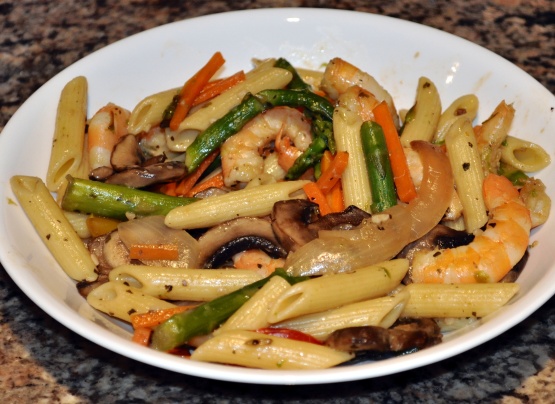 The sauce on this is not a thick alfredo-type sauce, so don't expect that. It is a light sauce with a touch of garlic. My experience is that by adding the broth, I can reduce the amount of butter in the dish by quite a lot, while still maintaining a very moist and flavorful taste. If you are inclined, you can add some diced cooked chicken or some shrimp along with the pasta in Step 7.

Top Review by KateL
Checkout home run! Using this recipe as my basis, I halved most ingredients, except I used 4 Tbsp butter, 8 ounces baby bella mushrooms, and 1 Tbsp garlic, using 6 oz penne pasta (to serve 2), and cutting other ingredients in half. Bought a (2-cup) tray of cut-up asparagus-red bell pepper-onion at Wegman's. Didn't halve the mushrooms-garlic-butter because I purchased 8 oz and we love mushrooms. Sauteed mushrooms and garlic over medium heat for 10 minutes to boost flavor. Used chicken broth in lieu of vegetable broth as we buy chicken broth in bulk. Added in 1 pound of steamed shrimp, shelled. As an experiment, used oval 6 1/2 quart Le Creuset for ease of sauteeing. To await serving, put pot in 200F oven to keep warm. My make-ahead method worked great.
Cook pasta according to package directions.
Prepare vegetables; julienne cut the carrots, chop broccoli, snow peas, asparagus. Whichever vegetables you like will work wonderfully in this dish.
Steam the vegetables for a about 5 minutes.
In a very large skillet (or even a wok), saute the mushrooms and garlic in the butter for about 4 minutes.
Add the steamed vegetables to the sauteed mushrooms.
Add the broth, lemon juice, sugar, pepper flakes, basil, and salt and pepper to the skillet and toss for a minute or two.
Add the cooked and drained pasta, incorporate with the vegetables.