Light Mint Chocolate Chip Ice Cream
PaulaG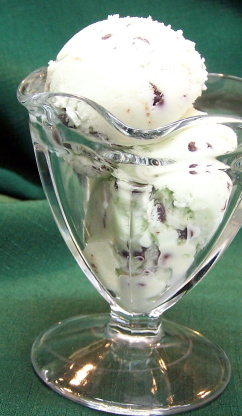 This is a light, refreshing ice cream and the only fat comes from the chocolate chips. Our whole family loves it! For a truly fat free treat, leave out the chips :) (Cook time is freezing time)

Top Review by ellie_
Great ice cream that doesn't taste "light". I only used 1/4 teaspoon of the pepermint extract which was the perfect amount for us. I was wondering about adding a bit of green food coloring next time I make this ice cream to give it the mint look as well as the great mint taste. Thanks Karen for sharing this great light ice cream that will be a regular at our house.
2

cups fat-free half-and-half

1

cup skim milk

1

cup granulated sugar

4

ounces pastuerized egg substitute (Egg Beaters)
1⁄2-1 teaspoon peppermint extract
3⁄4-1 cup semi-sweet chocolate chips or 3⁄4-1 cup miniature semisweet chocolate chips
Stir together egg substitute, sugar, and mint extract and combine well.
Add half-n-half and milk and stir until incorporated.
Chill for at least 30 minutes.
Pour chilled liquid into your ice cream maker.
Five minutes before freezing is complete, add the chocolate chips.
Enjoy!
Note: Be careful of the mint extract; some are stronger than others (start at smallest amount and taste before freezing).