Light & Luscious Vegetarian Quesadilla
Prep 15 mins
Cook 20 mins

This light and flavorful recipe was created for RSC#11. The vegetables with the melted gouda make for a light appetizer or snack. These are wonderful eaten plain or with salsa. Special Note: Make sure you use enough cheese and melt it around the nuts and beans so they don't fall out, toppings let you control how much zip it has :)
Directions
Heat olive oil in a medium frying pan. Wilt Baby Spinach in the oil until tender, but so that it still is separate leaves. Set aside to cool for 3 minutes.
In a large bowl mix by hand: Pine Nutes, Gouda, shallots, and Black Beans. Add Baby Spinach once cooled.
Spoon 3 tablespoons of mixture onto a flour tortilla. Top with another tortilla. Fry tortillas in frying pan for 2 minutes per side or until golden brown.
Cut quesadillas into quarters and serve with salsa or guacamole.
Reviews
Most Helpful
5 stars. This was great, my BF and I both liked this a lot. Nuts and beans fell out of the tortillas, but that was okay they cooked separately and I piled them on top with lots of yummy salsa. I found some low-fat gouda so that was a plus too! Thanks! Made for RSC #11.:D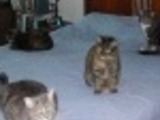 This made us a very nice lunch. I crushed the beans a little and toasted the pine nuts. Would like to add a bit more spice to it next time. Served it with salsa and sour cream.

It was hard to find a main dish recipe in RSC#11 that wasn't loaded with fat or sugar, so I was happy to see this recipe entered. Unfortuntely, I didn't like these at all. Nor did DH or my youngest daughter who eats most everything. For me, I found the shallots were overpowering because they were essentially uncooked.