teresas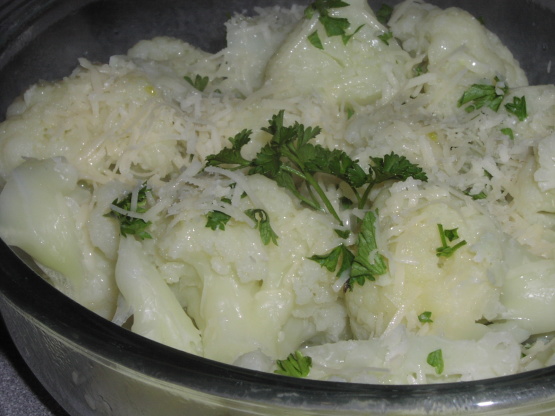 I found this in one of my low-carb cookbooks...

Top Review by tarab5
I didn't think this was anything special. I suppose if you're looking for something low-fat, it's not bad. If you really want to try something special this recipe is to die for: http://www.epicurious.com/recipes/food/views/cauliflower-with-mustard-lemon-butter-236506
Place 1 tlbs parsley, lemon peel and about 1 inch of water in a large saucepan.
Place cauliflower in steamer basket and place in saucepan.
Bring water to a boil over medium heat.
Cover and steam 14 to 16 minutes or until cauliflower is crisp-tender.
Remove to large bowl; keep warm.
Reserve 1/2 cup hot liquid.
Heat margarine (or butter) in small saucepan over medium heat.
Add garlic; cook and stir 2 to 4 minutes or until soft.
Stir in lemon juice and reserved liquid.
Spoon lemon sauce over cauliflower.
Sprinkle with remaining 3 tbls parsley and cheese before serving .
Garnish with lemon slices, if desired.