Light Italian Zucchini Crescent Pie
invictus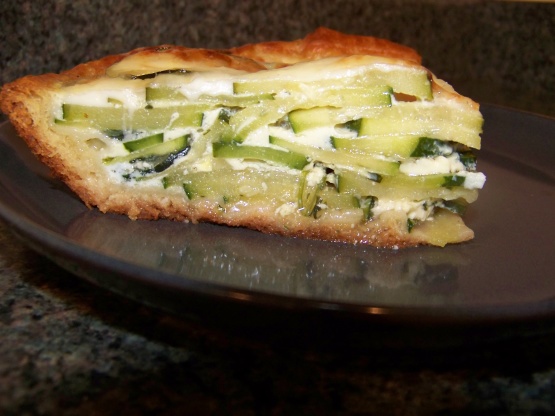 WIth the gardens overflowing with Zucchini in the summer, what a better way to use it up but for breakfast as well. This is a low fat recipe that would be great for breakfast or for a brunch. It was posted in the Pillsbury Annual 2008 Cook book.

This is a start to a really wonderful recipe. As is it didn't have a lot of flavor but it could be jazzed up by using different spices and maybe some different cheeses. I really liked the change of pace with a crescent roll crust. Don't let it sit for too long though because it does get soggy rather fast.
Heat oven to 375.
Spray 12 inches skillet with cooking spray; heat over medium heat until hot.
Add zucchini and onions and cook 7-9 minutes, stirring frequently, until tender.
Stir in parsley, salt, garlic, basil, oregano, and pepper. Remove from heat and allow to cool for about 5 minutes.
In large bowl, mix egg product and chesse. Stir in cooked vegetable mixture.
Seperate dough into 8 triangles. In ungreased 10-in glass pie plate, press dough triangles in bottom and up side of plate to form crust; firmly press perforations to seal.
Spread mustard over bottom of crust.
Pour egg mixture evenly into crust-lined plate.
Bake 25-30 minute or until knife inserted near center comes our clean. If necessary, cover edge of crust with strips of foil after first 15 minute of baking to prevent excessive browning.
Let pie stand for 10 minute before serving.