Rita1652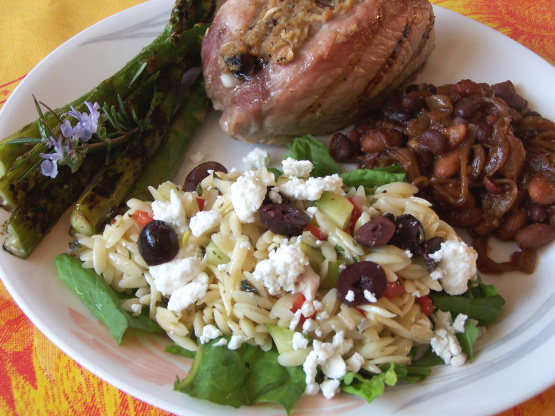 This is my adaptation of several orzo salad recipes. It's a wonderful summer side dish to accompany grilled foods. I let it chill for only 1 hour but I bet the flavors will meld even better given longer chilling time.

Enjoyed! Light, Refreshing crisp and flavorful! I used veggie bouillon. Used fresh red bell pepper in place of the roasted. Topped my salad with feta and olives(DH and DS do not enjoy them). For the dressing I used Recipe #284322 adding some fresh lemon juice Making this light and garlicky! Thanks for the good eats!
Add bouillon to pasta water and bring to a boil.
Add orzo and lemon rind and cook until tender, about 7 minutes. Strain and rinse gently with cold water and set aside.
While the pasta is cooking, saute the garlic and onion in a small pan over medium-low heat until soft then set aside for next step.
In a mixing bowl combine the chopped herbs, cucumber, onion and garlic saute, olives, roasted red pepper, salt and pepper and stir well.
Add Orzo, dressing and feta cheese, stir well.
Cover and chill for at least 1 hour, a few hours if time permits.
Enjoy!