Light Eggless Banana Cake
katia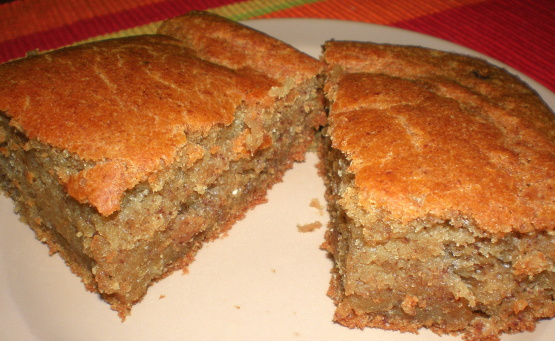 Light and easy to make and oh so yummy. I invented it after having too many ripe bananas. Best eaten straight out of the oven.

This cake turned out very well. I have tried countless recipes from books, websites, blogs..but none of them worked. I don't like soya either, so this banana recipe was a good option. I wanted to make a small cake, so I used a sixth of each ingredient and the end product was delicious. I used condensed milk instead of milk. Cake was yummy and spongy.
Preheat oven to 160 degrees Celsius.
Sift first three ingredients together.
Whisk pureed bananas, milk and butter together. (It is important that the pureed bananas are smooth and there are no lumps). Add dry ingredients gradually into wet ingredients, mixing well.
Pour into well buttered rectangular pyrex or oven roasting pan and bake for 20 to 30 minutes or till lightly browned on top and skewer comes out clean.
Cooks Note: After reading a review from someone, I think perhaps they went for a high cake. Aim for a flatter rather than high cake. So your pyrex or roasting pan should be flatter rather than deeper or higher. Eggless cakes fare poorly when you try to bake them in deep/high dishes instead of flat, as they dont have eggs to help them rise. This could lead to rawness in the centre, whereas a flatter cake would cook evenly.