Light Crustless Pumpkin Pie
ladypit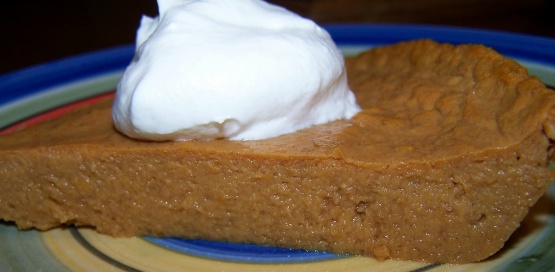 This is a recipe for pumpkin pie which I have sort of concocted myself. It is absolutely delicious, and unbelievably lowfat/low-calorie. It's perfect for diabetics or those watching their weight, but it tastes so yummy that most people would love it! It is a bit spicy, so if you don't like spices very much, leave out the cloves.

soooooooooooooooooo good!! i put two graham crackers on the bottom and they baked into a sort of crust then dolloped with light whipped cream. TO DIE FOR. my favorite.
Preheat oven to 425°F.
In a small bowl, combine Splenda, cornstarch, cinnamon, ginger, cloves, and salt.
In a separate large bowl, beat egg whites well.
Stir sugar mixture into the large bowl.
Stir in the can of pumpkin.
Slowly stir in skim milk.
Stir well, until all ingredients are uniformly mixed.
Pour into a 9-inch round pie plate that has been lightly coated with nonstick cooking spray.
Bake at 425°F for twelve to fifteen minutes.
Reduce temperature to 350°F.
Bake pie an additional 30-35 minutes at 350°F.
Remove pie from oven and cool.
Serve immediately or refrigerate until serving.