Light Cranberry Apple Crisp
DuChick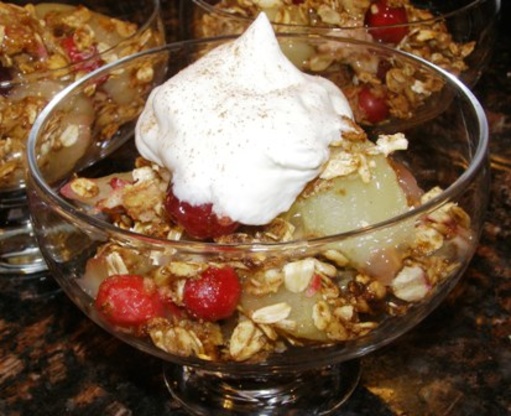 When my sweet tooth was _aching_ I concocted this treat using what I had on hand. I used all low-sugar/fat ingredients but that certainly isn't a requirement.

Well, Susie, my sweet tooth was aching too and needed some of this to take the pain away! I loved how simple it was to make and yet so light in calories and fat. I followed the recipe exactly and we were all delighted. We'll enjoy this again many times! Thanks so much!
Preheat oven to 350°F Coat an 8-inch baking dish with cooking spray.
Dump in the can of pie filling and cranberries. Sprinkle on the Splenda and water.
Mix the topping ingredients together and scatter over the fruit.
Bake for 30 minutes or until the cranberries have popped and the mixture is bubbly and the topping has browned.
Best served warm, especially with a scoop of ice cream.