Light Carrot Cake from Atk
DuChick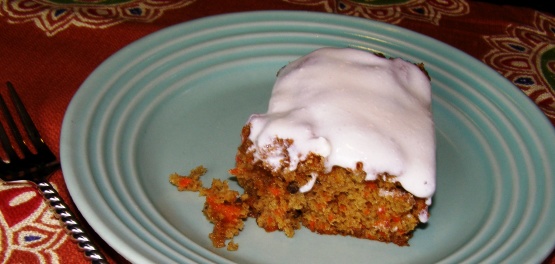 A lighter version of the classic. Really awesome! Came from America's Test Kitchen. My BF loves this - classic carrot cake flavor with none of the guilt!

Amaaaaazing cake! I had all intentions of dividing up this cake and giving portions away, but we ate the entire thing in just 3 days! Adding raisins was a new ingredient for me as my mom's "famous" carrot cake didn't use any...it also used over a full cup of oil! My raisins were less than fresh, so I plumped them up by soaking in hot water for 5 minutes. We even enjoyed snacking on this before I frosted it. Oh! I also cut back on the oil and used 1/4 cup of plain yogurt in addition to the 1/4 oil. It was still so moist with the most perfect texture. MERP'd for Fall PAC '12.
Adjust an oven rack to the middle postion and heat the oven to 350 degrees. LIghtly coat a 13 by 9 inch metal baking pan with vegetable oil spray.
Spread the walnuts on a rimmed baking sheet and place in the oven, stirring twice for 5 minutes, or until fragrant.Cool on a wire rack.
Whisk the flour, baking powder, baking soda, spices and salt together in a medium bowl; set aside. Using an electric mixer, beat the eggs and sugars together in a medium bowl until they turn thick and creamy, 1 to 3 minutes. Turn the mixer to low and slowly whip in the oil until thouroughly combined, 30 to 60 seconds.Sift half the flour mixture over the batter and gently mix in, repeat with the remaining flour mixture and continue to whisk the batter gently until most of the lumps are gone (do not overmix). Using a rubber spatula, gently stir in the carrots, walnuts and raisins.
Pour the batter into the prepared pan, and smooth the top. Bake until a toothpick inserted into the center of the cake comes out with a few crumbs attached, 35-40 mihnutes. Cool the cake in the pan for 10 minutes, then invert the cake on a wire rack, Flip the cake right-side up and cool completely on a wire rack, about 2 hours before frosting (if desired).
Frosting.
Mix the cream cheese and vanilla together in a large bowl with a rubber spatula. Add the confectioner's sugar and stir until thoroughly combined and smooth.