ImPat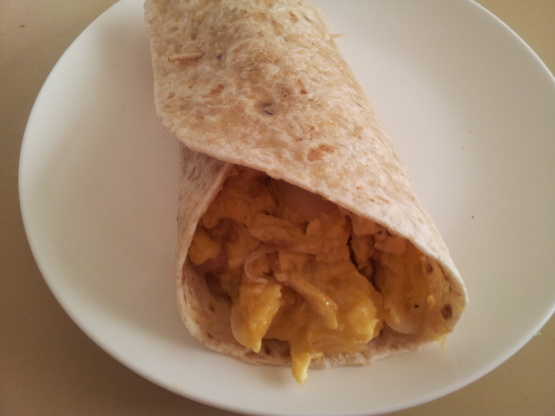 A light and legal burrito. For Zaar World Tour this in Southwestern States regional.

Top Review by ImPat
I used 2 eggs and a small red fresh chilli and omitted the tabasco for as it was it packed plenty of punch that chilli was hot and I used a wholegrain wrap as I have a heap in the freezer but no tortillas, thank you Annacia for a great, filling and full of flavour breakfast, made for Went to Market tag game.
Lightly coat a nonstick skillet with cooking spray. Cook the onion and chiles in the skillet over medium heat for 3 minutes, stirring constantly.
In a small bowl, whisk together egg substitute, cheese, pepper, and Tabasco (if using).
Pour into skillet and scramble for 3 to 4 minutes, until the eggs are done to taste, but not dry.
Place the egg mixture along one-third of the tortilla, about 2 inches away from the bottom. Fold up the lower edge, then roll from the side to form a burrito.