Light Biscuit for Belly Draggers (Canine)
loof751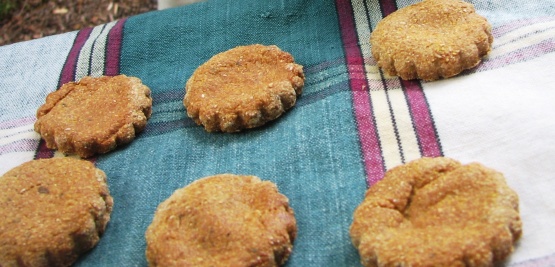 These treats were enjoyed by all three of my dogs - the smallest one especially - he begged for more! These biscuits were easy to make and came out nice and crunchy like a store-bought dog biscuit. Thanks for posting this recipe that my four-legged friends enjoyed!
Preheat oven to 300°F
Combine the flours, cornmeal, brewer's yeast, dry milk powder, garlic powder and parsley in large bowl.
In a small bowl, dissolve the yeast in warm water and stir well. Then add the chicken stock.
Pour the liquid mixture into dry ingredients. Working with your hands, combine all ingredients completely.
Knead for several minutes.
Sprinkle a board with additional cornmeal and roll dough out to 1/4" thickness.
Cut into shapes and place on ungreased cookie sheet.
Brush lightly with egg glaze (beaten egg and milk added together) and bake 45 minutes.
Turn heat off and let biscuits dry out in oven for several hours or overnight.
Store in airtight container.