Light Balsamic Vinaigrette Salad Dressing
jenne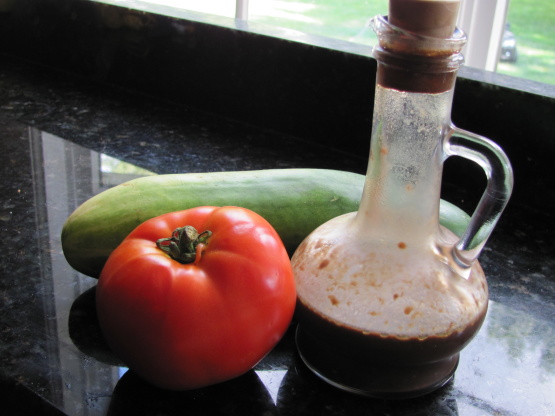 Great salad dressing from the Fresh Start Cookbook. This dressing is a favorite around our house. Easy to make with ingredients you probably already have on hand.
Surprisingly good! I thought that I would really miss the oil but I don't. I do want to add that the calories count was divided into 6 servings. I doubt any of us would use 1/6 the recipe on a salad. :) I recalculated. I measured 48 TBSP of dressing in the recipe, so there will be around 6 calories per Tbsp.
In a small bowl or food processor combine garlic and mustard until well mixed.
Whisk in balsamic vinegar, hot water and sugar.
Slowly add in olive oil mixing until emulsified.
Add salt and pepper to taste. Use immediately or cover and refrigerate.
Feel free to substitute different vinegars and seasoning to your own taste.