Light and Yummy Fish Tacos
Fiddler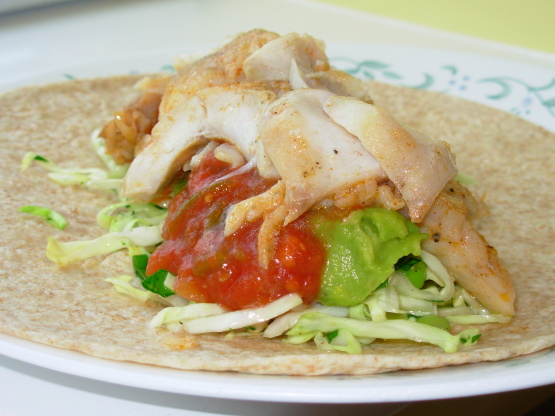 I have adopted this recipe as I have made it quite often, Original into: Made this up one day and it is so good I thought I would post it. I marinated my halibut for 2 hours in Mariel's Amazing Salad Dressing Mariel's Amazing Salad Dressing - this is optional.

Top Review by L2E770
This recipe is just awesome, we've literally had it once a week since I found it. On WW it's 2 points per taco made as shown (without guac). I use any whitefish on sale, and scallions vs onions as the onions were a little strong. Very important to marinade the fish or use a dry rub. Keep extra lime wedges to squeeze on each taco. Delish!
Make the cabbage slaw: chiffonade cabbage, add onion, cucumber and cilantro; squeeze juice of 1 lime over the top and toss; add salt and pepper to taste; let sit at room for 30 minutes.
Preheat oven to 400 degrees.
Heat a non-stick oven proof pan over medium heat, add olive oil, add halibut and brown on one side, turn halibut over and put pan in the oven for about 10-15 minutes until halibut is flakey and cooked through.
To serve: flake cooked halibut into a bowl and serve with warmed corn tortillas and the bowls of the cabbage slaw, guacamole and salsa.