Light and Tasty Lemon Yogurt Pancakes
Nimz1466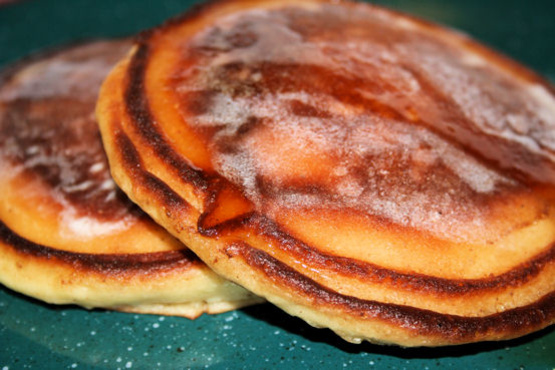 I've seen several lemon pancake recipes, but they had either cottage cheese or ricotta. These are made with yogurt. They're low fat too. From Outpost Natural Foods. Instead of lemon flavored yogurt, I use plain and add 1/2 lemon to a double batch. 8 pancakes wouldn't go very far in this family!

Jan 3 2010: Really, really good pancakes. I used plain yoghurt and added 1 tsp of lemon juice. Just love the flavour of these as did the rest of the family. We will definitely make these again. Update Nov 29 2010: I just had to let you know that I must have made these pancakes at least 20 times by now. They are a stable in our fridge meaning that I will mix the batter ahead for a quick breakfast for the kids on weekday mornings. I use yoghurt 1 tsp of lemon juice and I by now completely omit the oil - I don't find it necessary at all. All together a healthy breakfast when served with some applesauce. I have also served these for the morning after a big slumber party and I am now known as 'the mom that makes really good pancakes...'
In bowl, beat the egg and mix in the yogurt, milk and oil.
Stir in sugar and nutmeg.
In separate bowl, combine flour, baking powder and baking soda.
Add the flour mixture to the liquid and mix. The batter will be thick.
Grease and heat a griddle and pour out 1/4 C batter.
Cook pancakes until they begin to bubble, then turn and cook on other side.
Serve warm with maple syrup or Cherry Pancake Syrup.