Light and Spicy Pumpkin Pie Tarts
Pamela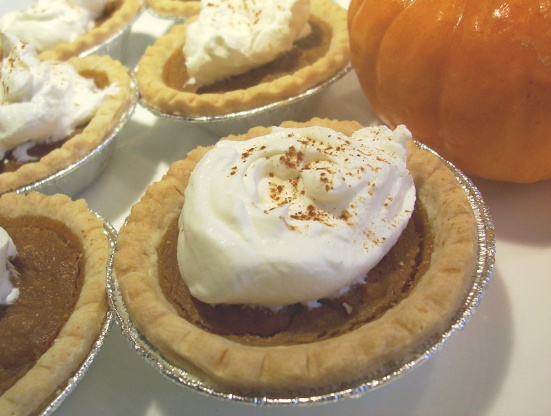 These are so light and delicious, they give a new spin to traditional pumpkin pie! These are great to bring to potlucks and parties. They are a real eye catcher with a dollop of whipped cream on top. The batter can also be poured into a 9 inch pie shell rather than the tart shells.

Excellent recipe. This is the first time I've made a sweet dish with pumpkin, so was very nervous about the task. I too took the trays out of the oven after 20 minutes as the pastry started to go very brown and the centre looked cooked. (I used store bought pastry.) Thanks a great one to use again.
In a large bowl, combine all ingredients gently with a spatula.
Spoon batter into tart shells and place onto an ungreased cookie sheet.
Bake at 425 degrees for 15 minutes. Then reduce heat to 350 degrees and bake for another 30 minutes.
Remove immediately from cookie sheet onto cooling racks. Enjoy!