Light and Luscious Chicken Enchillida Casserole
Ceezie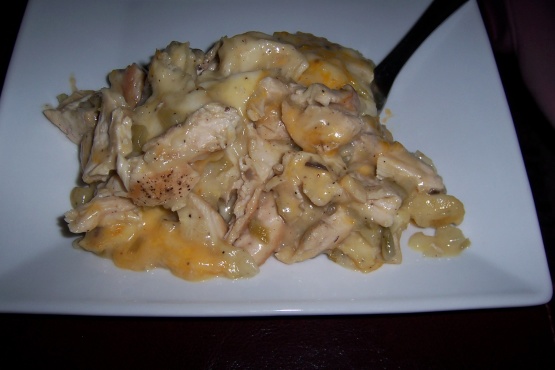 This easy-to-make casserole is rich, cheesy and best of al it's LOW FAT! This is one you can assemble the night before and pop in the oven for a quick and nourishing dinner that even the children will enjoy.

Top Review by Ceezie
We had to make a few adjustments based on tastes. I don't care for fat free cheese so we used Longhorn shredded and also flour tortillas. All in all it wasn't bad. The flour tortillas were a bit gummy so I will either use chips or make smaller pieces and use less of them next time. I also didnt care for the mushroom soup flavor but will substitute nacho cheese soup. This was a nice dish ... thanks yaya.
Preheat oven to 350 degrees.
In a large mixing bowl combine cooked shredded chicken, and all the remaining ingredients EXCEPT 1/2 cup of the cheese (I use Kraft FREE because it melts well and tastes great). Pour into a 8 by 12 inch oblong baking dish that has been sprayed with a buttery flavored cooking spray. Sprinkle the 1/2 cup cheese over the top.
Cover with foil that has also been sprayed on the "inside" with the buttery spray.
Bake for 50 minutes.
Serve with a light sour cream and a side salad if desired.
If prepared the night before, let the casserole take a spin in the microwave for 3 minutes before baking (to knock off the chill safely).