Light and Healthy 100% Whole Wheat Bread
benfaust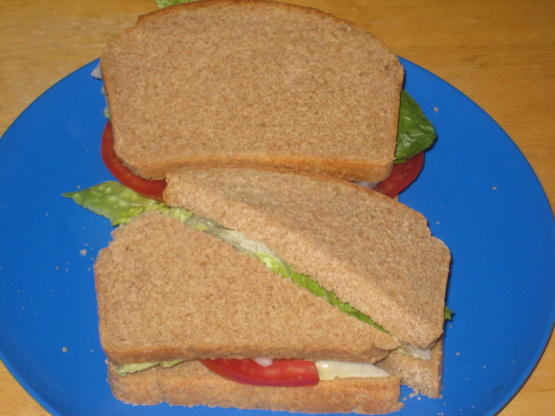 this is wonderful! it rises nicely and isn't too heavy.

My wife and I had to look through a ton of bread recipes to find one with instructions for making it by hand (we don't have a bread maker and don't want one). This recipe is simple, has no oil or dairy (we just used a non-stick bread pan, and not spraying the kneading bowl didn't cause any problems), and it tastes great! This is now in our permanent recipe list.
combine all ingredients and mix.
knead for about 15 minutes.
place in bowl sprayed lightly with cooking spray.
cover with plastic wrap sprayed with cooking spray.
cover with hot damp kitchen towel and let rise for about 2 hours.
shape in loaf pan sprayed with cooking spray and cover as above.
let rise for 1-2 hours.
bake 350 for 30-40 minute until top is nicely browned.
yum!