Light and Fluffy Pumpkin Pancakes
Izy Hossack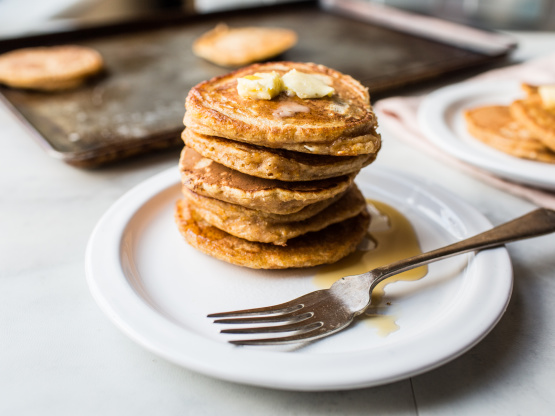 These little beauties are a beautiful color and will keep you full for hours after eating just one serving. I needed to use up extra canned pumpkin and thought I'd give it a try. - I got it out of the Martha Stewart Living magazine

These pancakes were a real hit at my house! All of my children loved them. I made a double recipe and ended up with some left over. Suffice it to say, they freeze and reheat in the toaster nicely. Just remember to put wax paper between them so they don't stick together. Also, if you are curious, 6 tbs. of pumpkin puree is about 1/3 of a can. Lastly, the batter is a little thick. If you like a little thinner batter and pancake, plan to add a little extra milk. Thanks for a great recipe!!!
Whisk flour, sugar, baking powder, spices and salt in a bowl.
In a separate bowl whisk together milk, pumpkin, melted butter, and egg.
Fold mixture into dry ingredients.
Spray or grease a skillet and heat over medium heat: pour in 1/4 cup batter for each pancake.
Cook pancakes about 3 minutes per side. Serve with butter and syrup.
Makes about six 6-inch pancakes.