Light and Fluffy Biscuits
Annacia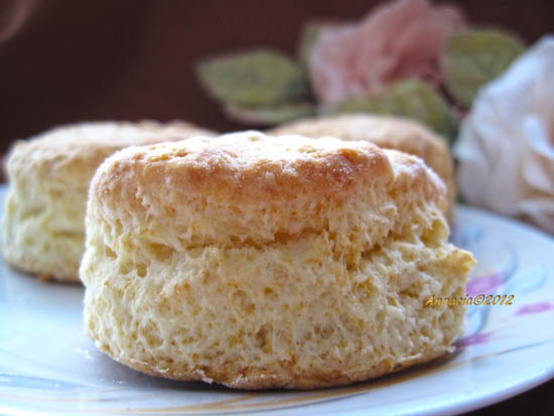 If you like biscuits, I am sure you will like this one. I can't tell you how many batches I baked to come up with this recipe. I wanted to make a light, fluffy biscuit that didn't choke you on the way down and I finally achieved my goal. They are great with gravy.
I'm glad I found this recipe. It was really delicious! I used buttermilk instead of regular milk and unsalted butter since I didn't have Crisco in my pantry. The biscuits turned out perfectly delicious - light and fluffy!
Combine the flour, salt, baking powder and sugar. in your mixer bowl, cut in the shortening until the mixture resembles coarse crumbs.
beat eggs and milk with fork and mix with dry ingredients.
mix lightly then turn onto a well floured surface. the dough will be moist so you will have to spinkle with a little flour. knead 20 times.
roll to 3/4 in thick. cut with biscuit cutter and place on lightly greased baking sheet so they are touching each other. brush top with butter or margarin.
bake in 450 degree preheated oven for 15 to 18 minutes.
remove from oven and let cool 5 minutes then place on cooling rack.