Light and Easy Chicken Chili
sheepdoc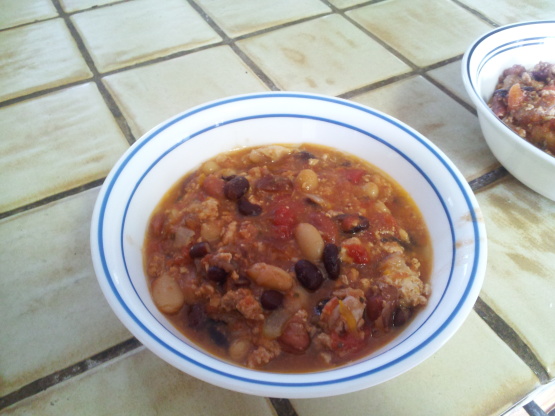 A filling, delicious meal that is healthy and a crowd pleaser. A perfect contender for your next chili cook-off!
Heat olive oil in large saucepan with medium heat.
Add onion, garlic,and bell peppers.
Cook 5 minutes, stirring occasionally.
Add chicken, chili powder, cumin, salt, and sugar.
Cook another 5-8 minutes, stirring to break up chicken.
Add tomatoes, pineapple salsa, and beans.
Bring to a boil.
Reduce heat and simmer uncovered for 10 minutes, stirring occasionally.
This can be served immediately, or if you want to make is ahead of time, it can be refrigerated for up to 3 days.