dizzydi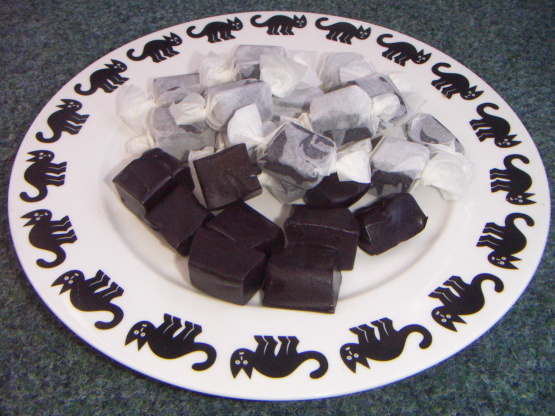 I originally found this recipe in the Orlando Sentinel in Dorothy Chapmans food column. She found the recipe in the 1991 Better Homes and Gardens Grand Holiday Cooking. This recipe is well worth the effort.

I made these for my dad for Xmas because he loves black licorice. I doubled the anise extract to two teaspoons (as per review suggestion) and next time would add the third teaspoon because he likes that strong licorice flavor. I was worried about dad's dental work but they stayed soft and were very creamy. Everyone loved them, my dad wouldnt let me bring any home. These will be requested next year I am sure. Thanks for a new treat for my dad.
Line a 9-by-9-by-2-inch baking pan with foil, extending foil over edges of pan.
Butter foil: set aside.
Melt butter in heavy 3-quart saucepan over low heat.
Add sugar, sweetened condensed milk, corn syrup and salt, Mix well.
Carefully clip candy thermometer to side of pan.
Cook over medium heat, stirring CONSTANTLY until thermometer registers 244F degrees , firm ball stage.
Reaching firm ball stage should take 15-20 minutes (be careful, mixture scorches easily).
Remove from heat.
Remove candy thermometer from saucepan.
Add anise and color, stir to mix.
Quickly pour candy without scraping into prepared pan.
Cool several hours or until firm.
Use foil to lift and out of pan onto cutting board.
Peel off and discard foil.
With buttered sharp knife, cut immediately into one inch squares.
Wrap individually in waxed paper or plastic wrap.
Makes 64 pieces, about 2-3/4 pounds.
NOTE: mixture must be stirred constantly as tiny crystals that form tend to scorch quickly.