Liberian Pineapple Ginger Beer
Mulligan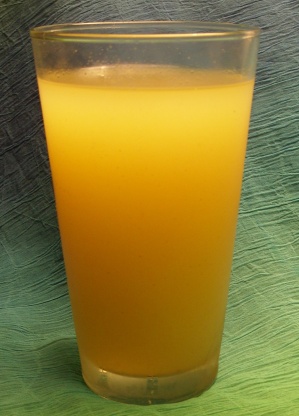 I love ginger beer! So when I found this I had to post it. I hope you enjoy! Ginger beer both tastes good and is good for you. Ginger root is high in vitamins K and B6 and also has magnesium. Ginger root is believed to relief symptoms of arthritis, motion sickness, nausea, gastrointestinal distress, and cold symptoms. Adapted from African Recipe Secrets. Liberia is in West Africa.
I think this has just the right amount of ginger spicyness to it. The only store bought ginger beer I can find isn't spicy enough for my DH and I. He really likes this one. I could only find about 1.5 lbs of ginger so I used less water. I added the 1 cup of sugar and that was enough for us. I want to try to reduce some to make it stronger and add soda water to that to make it fizzy. I hope that works. Thanks Sharon123. Made for Please Review My Recipe tag game, July '08.
Wash the ginger root. Cut it into 1/2 " pieces.
Move half of cut ginger into the blender. Add 1 cup of water. Cover and set blender to high. Blend until ginger coarsely chopped and mixed well into the water. Transfer this mixture to a large pot(8 quart).
Repeat with the rest of the ginger. Add this mixture to the pot.
Wash the pineapple. Use a sharp knife to remove the peeling. Slice the peeling off so that you also remove a half-inch of pineapple along with the skin.
Cut the peeling into one-inch pieces. Transfer half of the cut pineapple peeling to the blender. Add 1 cup of water and blend on high until pineapple is in small pieces and mixed in the water. Move to the pot of ginger.
Repeat with the rest of the cut pineapple. Add to the mixture in the pot.
Add 10 more cups of water to the pot. Half-cover the pot with the top. Bring to a boil on high and boil on medium for about 30 minutes.
Remove the pot from the stove. Cover the pot completely and allow the mixture to sit for 8 hours or overnight at room temperature.
Pour the mixture through a metal strainer to remove the larger pieces of ginger and pineapple peel. Use a wooden spoon to press the liquid through the strainer.
Use a clean cotton kitchen cloth(or clean wash cloth) to strain out the finer particles. Use your hand to squeeze the ginger beer out of the cloth.
To sweeten, first add 1 cup of sugar and stir. Add more sugar to desired taste. Chill and enjoy.
Store in the fridge.