loof751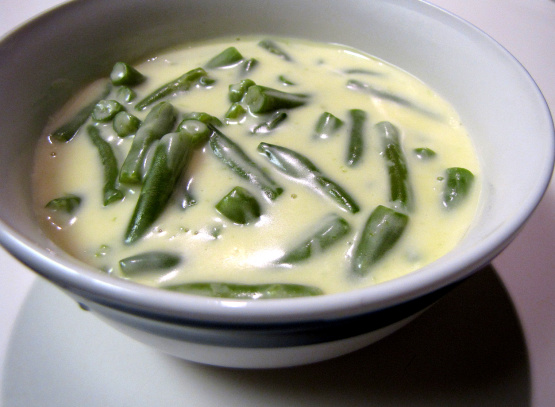 My mother-in-law's recipe. It has sour cream and Velveeta cheese in it. It's pretty good. You can use canned or fresh beans for this. Of course if you make it using canned beans, it will not take NEAR as long, lol.

This is a great recipe! Using the liquid from the canned beans as a base for the cheese sauce is such a great idea, it really gives it a nice full flavor. I used reduced fat sour cream with good results. These would be great served with roasted or grilled chicken. When I made these I needed a quick and easy meal so I was going to just serve with some buttered pasta, but when I saw how creamy the sauce was I just poured the beans over the pasta and sprinkled with some crushed red pepper for a quick and tasty veggie mac-n-cheese! Thanks for sharing this recipe!
Cut green beans into small pieces. Cook beans until tender. If using canned green beans, bring them to a boil with their liquid.
Mix the flour into the sour cream until smooth.
Add the Velveeta cheese.
Add to the beans, stirring constantly, until thickened.