Lvs2Cook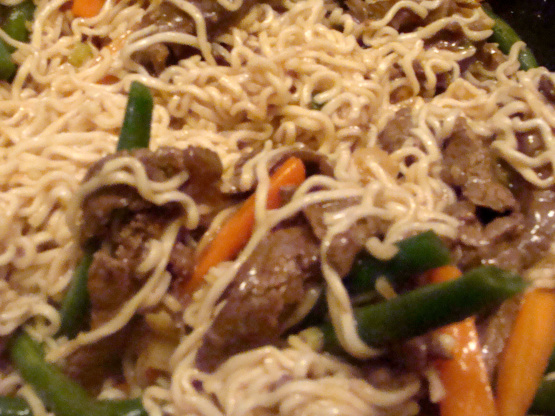 I've been making this for a long time and it's become a family favorite. If you like things spicy, be sure to add more red pepper flakes. Use 1 package beef broth from a 1.1 ounce box -- don't use the whole box -- there is no weight on 1 package so I had to enter it into the recipe as the whole box. Either discard the seasoning from the ramen noodles or save for another use.
Pour boiling water over noodles in large bowl. Cover and let stand ~ I just cover the bowl with a plate.
Heat 1 tbsp of oil over med high heat. Add steak and brown on all sides.
Add garlic and ginger; cook one minute. Remove meat, garlic and ginger from skillet.
Add remaining 1 tablespoons oil to skillet. Add green beans, carrots and green onions; stir-fry 3 minutes.
Whisk together 1 cup cold water, soy sauce, sesame oil, pepper flakes, beef granules (1 packet from the box) and cornstarch in small bowl until smooth. Stir into skillet. Cook, stirring until mix thickens and boils.
Lower heat, cover and simmer 1-2 minutes or until veggies are tender crisp.
Drain noodles and add to skillet with reserved meat. Stir well to blend ingredients. Heat noodles through to serve.