IngridH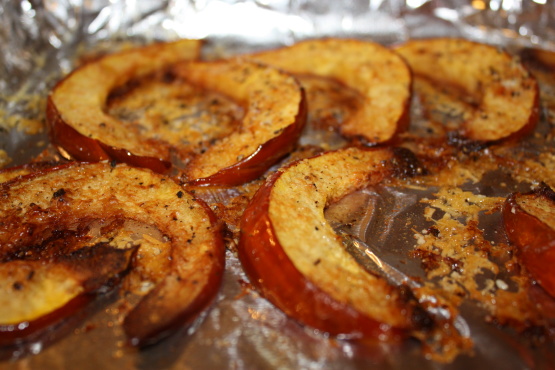 This is the only way my brother and I would eat squash for years. My mom tricked us into eating it by thinly slicing squash and serving it up the same way she would make potatoes. I was 16 before I realized I'd actually been eating squash all this time. Hence the name, liar squash. I've done with other veggies (zucchini and potatoes especially), but squash is still my favorite.

What with the combo of Parmesan cheese & the squash, the 2 of us were very satisfied with the taste of this dish, & I was happy with the easy of preparation! A great keeper! Thanks! [Made & reviewed during this Spring's Pick A Chef event]
1) Pre-heat oven to 350 degrees.
2) Slice squash and place on a lightly greases pan.
3) Spoon butter on top of squash.
4) Sprinkle parmesan cheese over individual slices of squash.
5) Lightly salt and pepper to taste.
6) Place in oven and cook for 10 to 15 minutes (or until cheese is melted).