Levana's Orange Poppy Seed Cake
Evie3234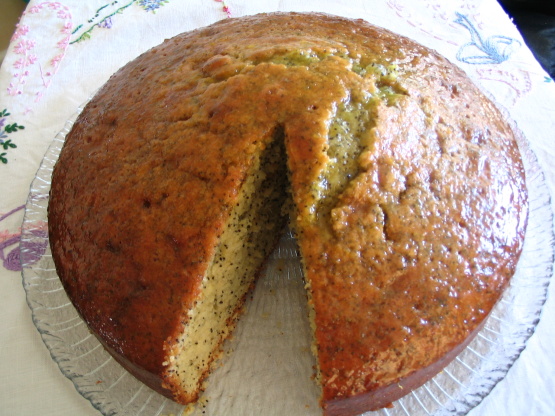 In my never-ending search for orange zest recipes, I came across this one in Levana Kirschenbaum's new book, Levana's Table. It's the most heavenly version of orange poppy seed cake I've seen so far. My only change to the recipe was to move it from the food processor to the stand mixer.

Mirj, kisses to Levana for such a great recipe! The orange flavor coupled with the poppy seeds gave this cake its great flavor. On a personal note: Mirj, everytime I "zest" I think of you!
Preheat the oven to 350 degrees F.
To make the cake: In a large bowl, mix together the flour, baking powder, salt and orange zest.
Set aside.
In an electric mixer, combine the eggs and sugar and beat until light and fluffy.
Add the oil and vanilla and beat until just combined.
Beginning and ending with the dry ingredients, add the flour mixture in thirds, alternating with the 3/4 cup orange juice.
Mix slightly after each addition, just to incorporate.
Add the poppy seeds and mix to incorporate the seeds into the batter.
Pour the batter into a greased 10-inch springform pan.
Bake for 1 hour, or until the point of a knife inserted into the center comes out clean.
To make the syrup: While the cake is baking, place the syrup ingredients into a small saucepan and heat until thickened, about 3-4 minutes.
When the cake is done, immediately unmold it from the springform pan.
Prick it all over with a skewer and brush the syrup all over the top and sides of the cake while it is still hot.
The cake will absorb all the syrup.
Let the cake cool completely before serving.