Lettuce Wedge Salad - Like Outback
Zurie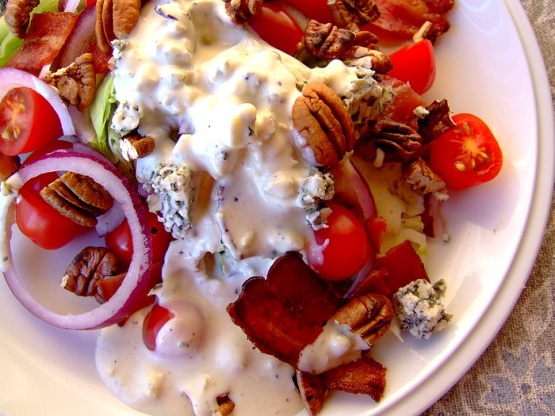 A NEW item on the menu at Outback! It was so delicious I have attempted to duplicate this wonderful salad. The toasted pecans were an optional item on the menu and just makes the salad!! The flavor is AWESOME! For more than 2 servings double recipe.

Oh my seasoned cook, this was sooooo good, I think, it was better than Outbacks. My hubby never eats salad, and he ate this and commented that it was great. I followed directions execpt candied the pecans with some brown sugar and We Olives pineapple white balsamic and I sprinkled the pinapple whit balsamic on the salad just before I added your outstanding blue cheese dressing.
Place lettuce wedge on a salad plate. Add grape tomato halves and onion on top of wedge.
Sprinkle with crumbled bacon, crumbled blue cheese and toasted pecan pieces.
Dressing: Mix ingredients and allow to sit for 30 minutes or more for flavors to meld. Drizzle on top of salad.
Enjoy!