Chef floWer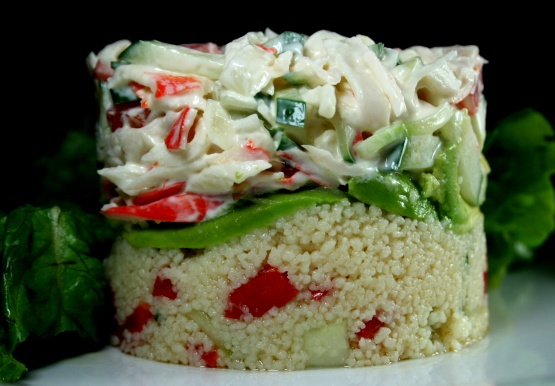 Outstanding presentation. This salad/entree would impress any guests and it taste so yummy. I made as written, however I know English is the chef second language, so the directions just need a little touch up. Just remember that wine vinegar is need in two steps and vegetable oil is needed for three steps. Example: Only use 1/2 tablespoon of wine vinegar and one tablespoon of oil in the cous cous. Then one tablespoons of oil to fry the onions. 1/2 tablespoon of wine vinegar and one tablespoon oil in the lettuces leaf. I also didn't know when to use the dry white wine. Then everything else should be perfect. I normally take away a star for directions which aren't clear but this is an exception. I made four small towers, I would of been happy to use an extra avocado, but it still worked out. I also used an new plumbing pipe which has been sterilised and I have always had for cooking as the mould. If you don't want to use imitation crab meat you can use the real thing or even prawns/shrimp but be sure to shred it. Thank you quid_pro_quo for posting your wonderful recipe.
Boil the bouillon.
Pour over the cous cous and mix.
Cover and cook it 1-2 minutes or place in the microwave covered for 1 minute at maximum power.
Keep covered for 5 minutes, then remove cover, mix and let cool.
Remove seeds from the cucumbers and the pepper and julienne.
Reserve 1/4 of the cucumber and pepper; set to the side.
Mix the remaining cucumber and pepper with the cous cous.
Mix the oil and wine vinegar together; add to cous cous.
Mince the onion and brown until golden in 1 table spoon of vegetable oil.
Cool.
Peel and pit avocado; cut into thin slices and sprinkle with lemon juice to prevent discoloration.
Shred the crab meat, the reserved cucumber/pepper mixture, add the browned onion, mayonnaise, and pepper to taste; set to the side.
I added salt.
Tear lettuce into small pieces by hand and dress with wine vinegar and oil.
To assemble the salad, cut both ends out of a can.
Begin assembling of salad tower.
Place bottomless can on salad plate and layer bottom layer is cous cous, followed by avocado, and crab mix.
Press each layer firmly with a spoon.
Carefully remove the can.
Dress each plate with some larger, prettier lettuce leaves.
Serve.