Lettuce, Raisin and Walnut Salad With Creamy Raspberry Dressing
BarbryT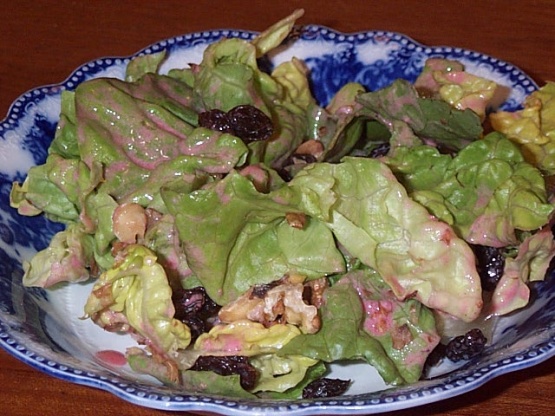 For my birthday, several of my friends and neighbors got together and wrote down some of their favorite recipes. This one from Annette Q. sounds refreshing. Best in early summer when raspberries are in season.

We really liked this salad! Bibb lettuce and raisins are two of my favorite salad ingredients. I wasn't keen on having to buy raspberry vinegar, but the dressing was delicious. Next time I make this, I think I will dress the leaves, divide onto plates, and then add the raisins, nuts, and raspberries. The raisins were really crucial in counteracting the tartness of the berries, so the first plate I made was too tart, but the last with all the raisins which had fallen to the bottom of the salad bowl was perfect. Even picky picky 5yo DD loved it (may have been the pink dressing).
Mash 1/2 cup raspberries through a fine sieve set over a bowl. Press and extract as much pulp as possible.
Add vinegar and sugar to pulp and stir to dissolve.
Whisk in oil and cream.
Combine lettuce, raisins and nuts in a large bowl.
Lightly coat lettuce leaves with dressing, add salt and pepper to taste; toss.
Divide among plates and sprinkle with remaining raspberries.