Lettuce Boats With Bleu Cheese and Bacon
2Bleu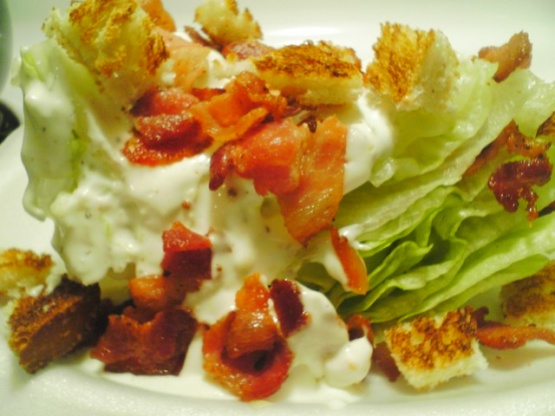 This is the most simple yet elegant and fanciful way to serve a salad, no chopping or tearing the leaves, and it just looks so cool plated up. It's really fun to see folks 'WOW' the looks of such a simple salad. This one never goes unnoticed.

This recipe is so easy to fix & has a lovely presentation. Mostly for the latter reason, I served it as the salad course of a dinner party Sat nite w/a mini-tartlet made from Recipe #258622 but there were other reasons. Icelanders serve salads dry, I about choke getting them down + DH likes only blue cheese salad dressing ~ so this recipe fit all my needs. It was well-received & I am pleased to have struck another blow in the fight against *naked salads* in Iceland. Thx for adding this *weapon* to my arsenal. :-) *Edited to Add* My presentation differed from the recipe as iceberg lettuce is often difficult to get here & this was 1 of those times.
Cook bacon and garlic in skillet until crisp. Remove bacon and drain on paper towels.
Place lettuce wedges upside down (like a boat) onto individual serving plates. Drizzle each lettuce wedge crossways (across the sides of the boats) and around the plate with dressing.
Sprinkle the fresh bleu cheese over top. Sprinkle bacon on and around the boat then top with green onion.