Let's Go Green Fruit and Vegetable Juice

Entered for safe-keeping, great for the Vita-Mix. From Clean Eating, Fall 2008. This has celery for strong bones, joints, skin, hair and nails; and broccoli for its anti-cancer properties, and possibly to eliminate the stomach bacteria Helicobacter pylori (H. pylori).
Directions
Wash everything. Do not peel parsnip or cucumber.
Juice everything, stir and enjoy.
Reviews
Most Helpful
I loved this and since I recently purchased a Vita-Mix I thought I'd give it a try. I left out the parsnip and used half cucumber, one pear, one celery, and 1/2 cup brocoli and some honey and some water. Thanks!
This is a great juice recipe. I liked this combination very much. The pear added just enough sweetness to make this tasty. Thank you for posting a healthy juice recipe!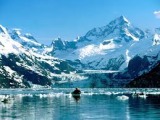 This is very green, delish, and not too sweet! I made it in my Jack Lalanne juicer. Since it made quite a bit for one serving, I left out the broccoli; with broccoli, this is definitely enough for two servings! And if you make two servings, add another pear to increase the sweetness. I think this is best served over ice. Thanks, KateL, for a wonderfully refreshing and healthy drink! Made for Veggie Swap.