Less Pudge Blueberry Coffee Cake
Annacia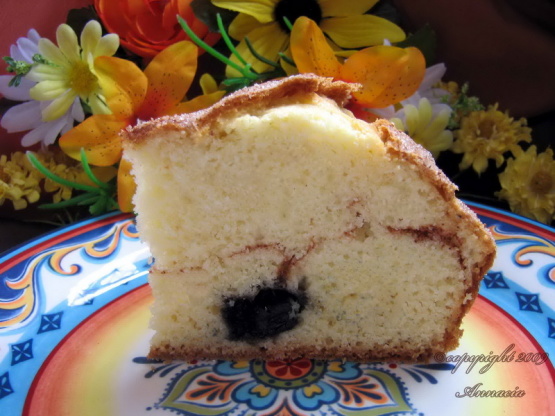 This is a modified recipe from one I found in an old muffin cookbook. I adjusted some of the ingredients to remove some of the fat and cholesterol content...but I still bake with butter so beware. Now with this said - this is NOT a diet cake - cake is cake and still holds calories - this is just my version of a reduced fat version. NOTE: If using frozen blueberries for this recipe DO NOT thaw before adding to the batter.

What a great tasting coffeecake this is Melissa. I especially love the added cinnamon/sugar combination thru-out. Just the right amount of crunch and sweet. Since I made at the coffee/cafe I work for and to be sold by the slice I used regular eggs and regular sourcream. But, I can see doing the less pudge substitutes at home w/o any of the taste being compromised. I also used a powdered sugar glaze w/a bit of blueberry syrup added for flavor. Thanks for posting this keeper of a recipe and I"m so happy I tagged it for PhotoTag~
Spray a 10-inch flute tube pan with cooking spray and then dust lightly with flour.
In a large mixing bowl, beat the butter and sugar until crumbly, about 2 minutes.
Beat in the egg substitute and vanilla.
In another bowl, combine the flour, baking powder, baking soda and salt.
Add dry ingredients to the egg mixture alternately with the sour cream.
Gently fold in the blueberries.
In a small bowl, combine the topping ingredients.
Spoon half of the batter into the prepared pan.
Sprinkle half of the "topping" ingredients over this layer.
Spoon the remaining half of batter into the pan and top the batter with the remaining topping mixture.
Bake at 350F for 40-50 minutes or until a pick comes out clean.
Cool cake for 10 minutes before removing from pan to a wire rack to cool.
Before serving, dust with confectioners' sugar if desired.