Brenda.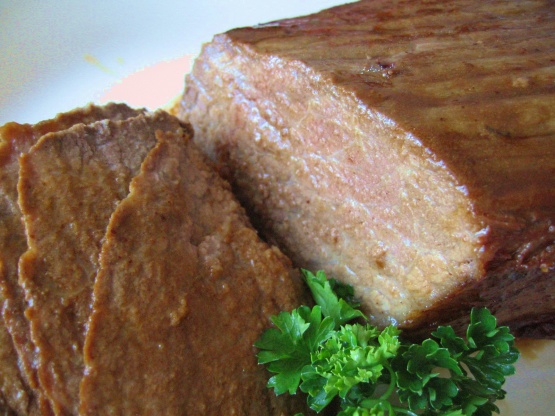 Leslie lived across the road from us and was a very good friend of Mums. Mum cooked this alot when we were growing up as kids. Make sure you weigh your roast for cooking times. I have quoted cook time for a 1 kilo roast. You may like to increase the paste mixture for larger size roasts.

Top Review by ImPat
I had a 1.6k very lean topside roast, so I doubled the ingredients. Placed the roast on a rack in the baking dish and poured the mix over, put some water in the bottom of the pan and the lid on the roaster - cooked at 175 degree for the first hour with the lid on and then 1 1/2 hours with the lid off which made the meat well done (DH doesn't like it mooing at him) but still very moist. The WOW factor was the gravy the pan juices made with just that subtle flavour from the grained mustard and slight saltiness from the soy. Would definately use again. Made for Recipe Swap #9 - October 2007.
Preheat oven to 150°C.
Mix mustard, soy and oil into paste.
Spread over topside.
Cook uncovered, 25 minutes for each 500grams.
Stand for 15 minutes before serving.