Leslie's Cinnamon Cheesecake Bars
Li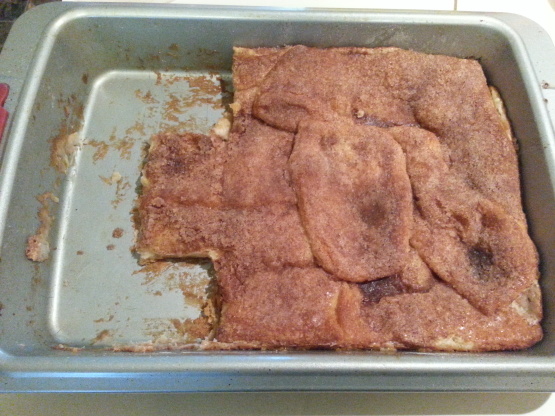 Very easy. Great for entertaining and family reunions. Can be eaten with your fingers. Portions can be make bigger or smaller.
Top Review by Li
This was so good! I needed a recipe for a quick cheesecake, and I'm so glad I found this, especially since I had croissants I had to use up. The only changes I made were to add some cinnamon and some can whipped cream I had in the fridge to the cream cheese mixture, and more cinnamon on top. Turned out amazing, me and my friends loved it! Next time I might add fruit between the bottom croissant layer and the cream cheese, as that sounds good too.
Preheat oven to 350°.
Layer 1 package crescent rolls on bottom of an ungreased 9x13-inch pan (press it to fit). Mix cream cheese and 1 cup sugar and 1 teaspoon vanilla. Add to top of crescent rolls. Layer the second package of the crescent rolls to fit on top. Melt margarine. Pour over top. Mix 1/2 cup sugar and 1 tablespoon cinnamon. Sprinkle on top. Bake for 20 to 30 minutes or until top is golden brown.
Tip - for second layer of crescent rolls, lay on top of wax paper or plastic wrap . Pat to fit top, then lay it on top and peel off.