Les Fougeres Butter Roasted Almonds With Cranberries and Sea Sal
BarbryT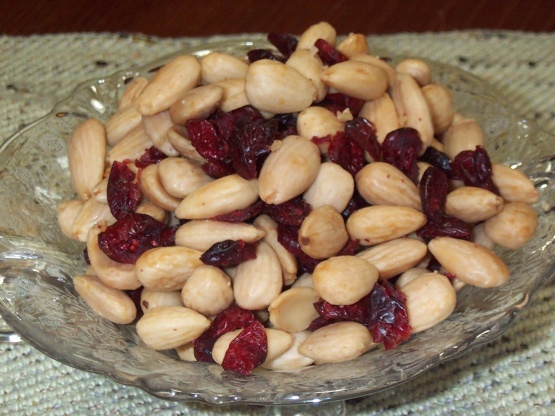 Yummy at this time of year for parties and great as gifts too. Also EASY. update, i have reduced the butter to a 1/4 cup after the two reviewers comments.

What you have here is a marvelous snack mix too! I made this as directed and it worked perfectly. I did lay the almond out on paper towels but found that really was not necessary. My kids are still munching on this. Just a nice snack without a lot of fuss or anything that can melt while traveling in the car or on the sidelines of a soccer practice. Made for your win in Summer Spectacular in the Cooking With Friends Tag Forum. :) Thanks Marra!!
Toss almonds with the melted butter to coat, adding sea salt to taste.
Spread out on a parchment lined baking sheet and roast at 325F until golden brown, about 12 minutes, stirring occasionally. Cool completely then mix with dried cranberries and a little more sea salt to taste.
Store in an airtight container at room temperature.