markandj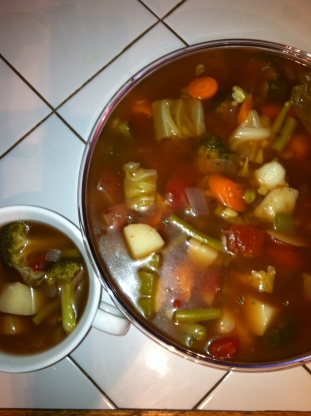 Low fat, high fibre, good for using up leftovers, throw in almost anything!

This soup is absolutely perfect for the high fiber, low fat diet. I couldn't believe my eyes when I found it. It is ridiculously delicious. And it is so easy to change the ingredients to what you have on hand. Kudos Leona!!!
2

cans diced tomatoes

1

head cabbage, diced

5

carrots, cut, into, coins

2

onions, chopped

1

tablespoon minced garlic

6

cups beef bouillon

1

bunch celery, chopped

1

zucchini, diced (peeled only if large)

1

bunch broccoli, cut, up

1

head cauliflower, cut, up

2

cups green beans

1

tablespoon Worcestershire sauce

3

drops Tabasco sauce
salt and pepper
water (I add water till desired consistancey)
Place all ingrediants into large soup pot.
Bring to a boil, turn down heat and let simmer till veggies are done approx 20-30 mins.
Adjust seasonings and serve.
You can substitute any veggie combo you want, potatoes, corn, peas, beans etc.
I sometimes throw in left over rice or noodles.