Iceland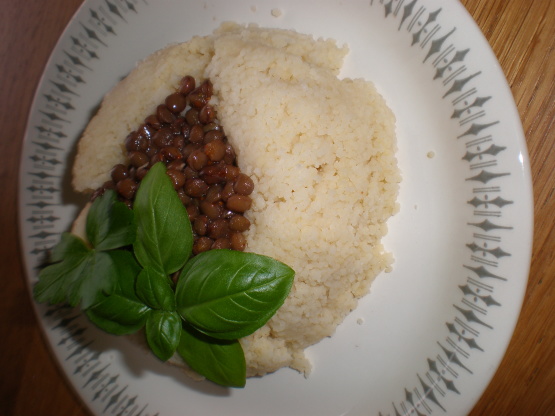 This superb North African favorite with the combination of aromatic spices and crisp brown onion adding a real spark to the subtle flavors of the lentils and couscous.

This was okay, but bland, which surprised me with all that garlic. I cooked the onions for 15 minutes on medium, and they still weren't browned enough to add the flavor that I think they should have. Definitely start the onions when you start cooking the lentils. If they get done before the lentils, you can always just hold them until the lentils are done. For full flavor, you're going to want them fully browned and not only on the edges like I did. ZWT6
Place the lentils in a medium saucepan. Add garlic, spices and 3 cups of water. Bring to a boil over medium heat, stirring occasionally. Reduce heat to low, cover and simmer for 40 minutes, stirring once halfway through cooking time.
While lentils are cooking, bring the 1 cup of water to a boil in a small saucepan. Remove from heat, stir in couscous, cover, and set aside for 15 minutes.
Heat oil in a large nonstick skillet over medium heat. Add onion and cook, stirring frequently, until onion is nicely browned, about 10 minutes.
Add lentils to skillet and mix well. Remove and discard bay leaf.
Serve lentils over couscous.