Bergy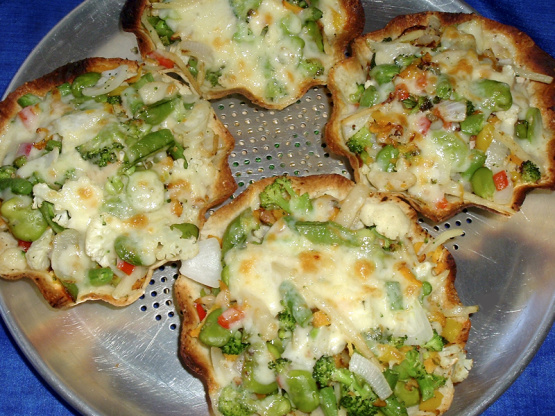 These look really good! I haven't tried them, but will be doing so in the near future.

Yumm, these are great. Super quick and easy as well. A great week night meal. I used a low fat cheese and instead of using pre made tostada shells, I baked corn tortillas until they were hard. I topped with spicy salsa when they came out of the oven. I love how the veggies are just cooked- keeping them a little crispy. Thanks for posting, will make again for sure.
In a medium saucepan stir together water, lentils, onion, cilantro, salt, cumin, and garlic. Bring to boiling. Reduce heat and simmer, covered, for 12-15 minutes or until lentils are tender and most of the liquid is absorbed. Use a fork to mash the cooked lentils.
Spread the lentil mixture on tostada shells, top with vegetables and cheese.
Place on a large baking sheet.
Broil 3-4 inches from the head for about 2 minutes or until the cheese melts.
Serve immediately.