Lentil-Veggie Soup (Crock Pot)
Redsie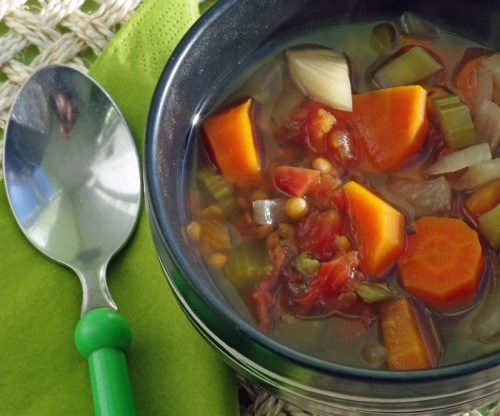 This soup is easy to put together with basic food items that most of us have around. I found the recipe in Better Homes and Gardens Biggest Book of Slow Cooker Recipes, and I did some adjustments with the vegetables and herbs used. I was surprised at how good this very simple soup turned out.

We really enjoyed this healthy soup! I added some zucchini and even some cauliflour left over from a veggie tray. Added just a pinch of red pepper flakes and a pinch of kosher salt too based on ideas from other reviewers. My crock pot runs really hot, so on low 6 hours was just right. Gotta know your crock pot. Perfect on a cool day with some whole grain bread from the bakery.
Rinse lentils.
Place all ingredients except the pepper into a 4-6 quart slow cooker.
Cover and cook on low for at least 12 hours, or high for at least 5 hours.
Season with pepper and remove the bay leaves before serving.