Sageca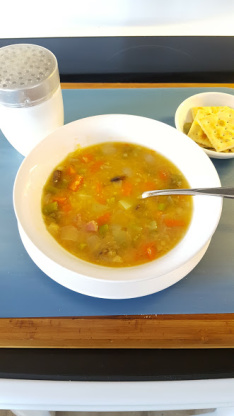 Goodness of lentils using leftover Easter ham. This is but a base for whatever vegetables or spices you would like to use. It is tasty good for the cold spring weather we are having.
In large soup pot heat up oil; add onions, shallot, carrots and celery.Cook about 5 minutes; add garlic and mushrooms; cook 5 more minutes.
Stir in tomato paste and cook 1 minute.
Add lentils, ham and chicken broth; stir in Vegeta and savory.
Cover and cook until lentil are tender;add broccoli stems last 10 minutes about 30-40 minutes.
Taste and add salt and pepper.
Serve with parmesan cheese for a change of flavour.